About us
Aline Papazian – "An artist's ability to mimic nature is what truly defines their talent. Genuine artwork is often created by drawing inspiration directly from mother-earth, the greatest artist of all time. Her natural surroundings are designed to stimulate our senses and provide us proof that miracles do exist. From the smell of blooming flowers to the sight of majestic mountain ranges, nature constantly reminds us how beautiful she is. It is for this reason that pearls have always been particularly special to me. They are a gift from nature, and the perfect gem."
With a family history dating back four generations of jewelers, Laura Aline is the collaboration of a mother daughter design team motivated by their undeniable love affair for pearls. As a young girl, Aline's fascination for nature encouraged her to become an artist which then led her to discover a passion for fine jewelry design. With over 35 years of experience in the trade, many of her creations have been sold throughout the world. Aline's hand crafted pieces have won numerous awards and have been featured in various high-end jewelry and fashion magazines such as, the Canadian Jewellers Association, Robb Report, Vogue, Veranda, Architectural Digest, In Style, Harpers Bizzar and Elite. Aline's creations have also been on billboards across the province of Quebec, during La Semaine de la Bijouterie.
Laura's admiration for jewelry started at a young age and with her mother's artistic guidance she developed a unique eye for design. Her appreciation for natural gemstones encouraged her to pursue studies in gemmology. Discovering the boundless array of colored gems broadened her artistic scope giving her the ability to create jewelry that is vibrant and daring.
Laura Zakem – "As a young girl I remember visiting my grandfather's jewelry stores and being mesmerized by all the beautiful pieces around me, I can still feel the excitement and exhilaration , I knew this was my calling."
Aline and Laura's rich family heritage and contemporary flare for design have allowed them to reinvent pearl jewelry to adapt to the "now" women; bold, sexy and confident.
Award winning designer Aline Papazian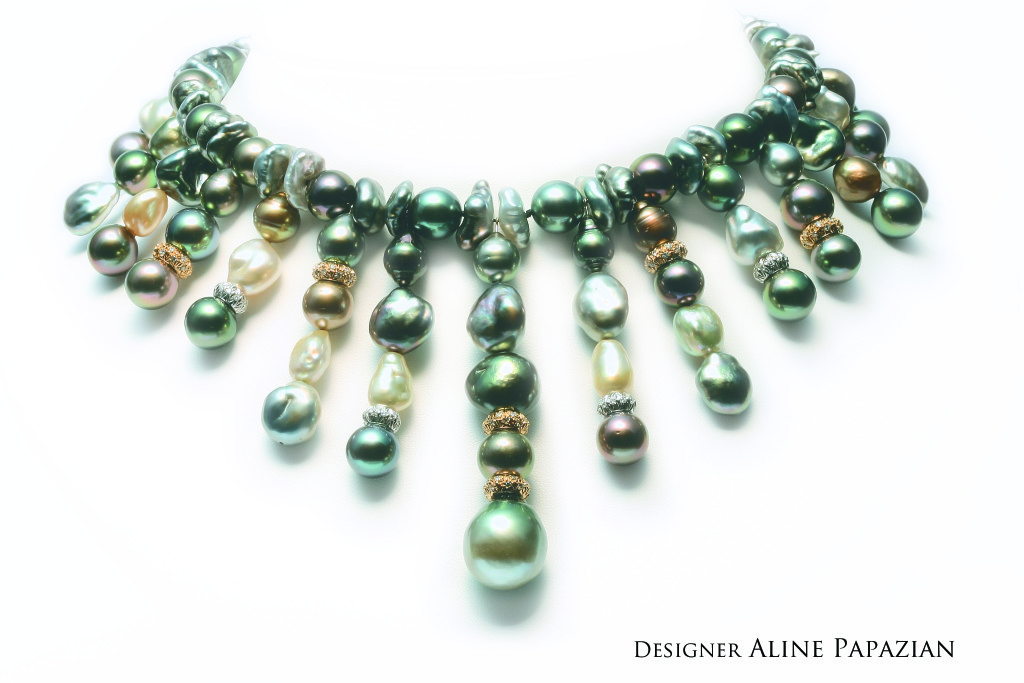 Aline's design "Tahitian Seduction" was the winning piece of the North American Tahitian Pearl Trophy competition. This exquisite masterpiece was created using Tahitian pearls and South Sea Pearls of all colors and shapes with diamonds and 18 karat gold.